Unparalleled Orthodontic Care for Your Best Smile!
West Paces Ferry Orthodontics has served the Atlanta area since 1941. Founded by Dr. Marvin Goldstein, a pioneer in the field of adult orthodontics, Dr. Paul Yurfest and Dr. Kristin Huber uphold Dr. Goldstein's commitment to bettering the lives of those in our care.
Along with our team, our doctors are dedicated to providing each patient with an exceptional orthodontic experience, from our first conversation to your beautifully confident finished smile!
Specializing in Adult Orthodontics
At West Paces Ferry Orthodontics, we understand the unique concerns of our adult patients: you desire a wonderful smile but are concerned about your appearance during treatment.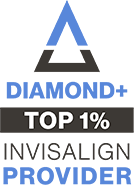 We offer multiple effective and invisible orthodontic options, including Invisalign® clear aligners, clear brackets (braces), and lingual braces, which are placed on back side of the teeth.
If you are an adult who years for a more becoming smile but worry about how you'll look during the process, we can help!
Orthodontics is More than a Cosmetic Change
While many people think of orthodontic treatment as a way of improving their appearance, there are many other benefits to the process:
Correctly aligned teeth allow for proper, comfortable chewing, reducing the strain on the jaw as well as facial and neck muscles; orthodontics can be an effective solution for TMJ-TMD.
Orthodontics is also an effective treatment for people with obstructive sleep apnea and other related sleep disorders.
Straight teeth are much easier to keep clean and healthy through good home dental hygiene routines, decreasing the likelihood of future dental disease.
Advanced Orthodontics with a Personal Touch
Our doctors and team members stay current on the latest advancements in orthodontics, incorporating the best options into the practice. We are professionals and take our job seriously; we are also friendly, personable, and thrive on the connections we build with those in our care.
We promise to provide you with the same high-quality orthodontic experience we offer our loved ones, and to keep you comfortable and smiling throughout treatment.
Schedule a Complimentary Orthodontic Consultation
The first step on the journey to your best smile is a consultation with our doctors. No high-pressure sales pitch, we promise: instead, straightforward, conservative orthodontic options that will soon have you sharing a confidently healthy and beautiful smile!
Please contact West Paces Ferry Orthodontics, in Atlanta and serving Vinings and Buckhead, to schedule a complimentary consultation for yourself or a loved one, today!